Built to Suit. Built to Last.
Henderson Fence is a leader in the fencing industry with over 25+ years of experience. Working on residential projects only, we work directly with each homeowner to ensure that they get the fence they desire. We never cut corners and perfection on every level is always our end goal.
Proudly serving Culpeper, VA and surrounding counties.
Fence Styles
Split Rail Fence
Split Rail is similar to a 3 board fence, but in a more rustic style. This fence looks great in a wooded setting and blends in well in a rustic environment.
Post and Wire with Top Board
Post and wire allows for great visibility. The single board function allows for an economical solution to fencing a large area.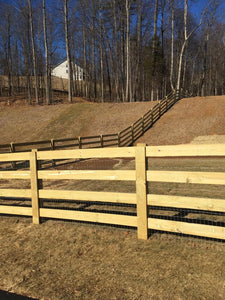 Post and Board
Post and Board is a traditional farm fence but is also popular in estate and manor homes. This fence style can be done in 4' or 5' heights with 3 or 4 boards. Adding a wire mesh will give children and pets a secure play area while maintaining views of the property.
Aluminum
Alluminum Fences are typically used around pools, patios, or other small areas. We will work with you to ensure that any pool codes are met and all safety specifications are met.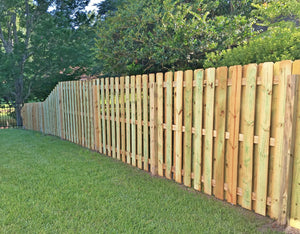 Shadow Box Fences
Shadow Box fences provide great privacy and are extremely durable. Because the weight is distributed evenly between the rails, you don't have to worry about sagging or falling pickets as the fence ages.
Picket Fence
Picket fences are a classic and simple fence often used in neighborhoods. Great for decoratively creating boundries and defining property lines.
Testimonials
The work was done promptly, as expected and the fence looks great. He had great ideas for how to configure the fence for optimal house access. The fence looks so nice that several neighbors have stopped to ask who did the work and then hired this company to do the work for their own houses! Actions speak louder than words.
Jason came quickly and on time to learn about the project, gave a prompt bid, and brought his crew over to do it a few days later. They worked steadily until the job was done in two and a half days. His advice on fence placement was very good. The resulting fence is very substantial and attractive, nicely fit into rolling terrain and neatly attached to buildings at three points. He's friendly and low-key. I am a very satisfied customer and would strongly recommend him.
They were excellent. He was responsive and reasonable price. He got back at me and he did what he said he was going to do and he stood behind his work. They showed up on time. The place was nice and clean. I would use this provider again in the future.